Staff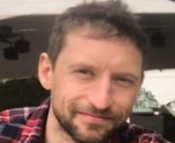 Jamie Hilton (DIRECTOR)
Jamie has worked in post-disaster contexts in Peru and Haiti, delivering interventions spanning all age groups; and in community leadership roles in Colombia and South Africa. He has also worked as a surveyor for Deloitte; in youth/outreach roles at the Prince's Trust; and as lead for Save the Children's work in the south east.
Jamie's interests include championing service accessibility for all; community-led interventions, which combat lonliness and isolation; and exploring innovative measures to alleviate the impact of poverty and deprivation.
Jamie has also worked in Gran Canaria, France and USA; and is a (non-executive) director for a non-profit supporting migrant women in Thanet. Over the last year he has become a keen gardener, studying for an RHS course part-time at Hever Castle.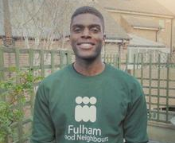 Barney Valentine (Gardening Project Co-ordinator)
Barney, an experienced gardener, supports older people and people with disabilities who: are unable to garden themselves; have no one else to ask; and are unable to pay privately (full details here).
Barney began gardening in 2012 and has studied 'Gardening and Landscaping' at Hadlow College of Horticulture.
"As the Gardening Project Co-ordinator, I enjoy maintaining and developing gardens, and sharing ideas and advice on how to make the most out of your garden space."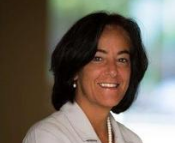 Jacqueline Davies (FINANCE AND PARSONS GREEN FAIR ADMINISTRATOR)
Jac is our Finance lead as well as our lead for the Parsons Green Fair.
Jac, originally from Liverpool, is qualified in Hotel & Catering Management. She spent 30 years at Management & Corporate level in the 5* hotel industry and working in London, Langkawi, Kuala Lumpur, Ho Chi Minh City, Cyprus.
"Now back in London, I am hoping to make a valuable contribution to the Third Sector and my local community."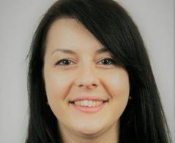 Lucia Ciolanel (ADOPT A GARDEN AND DIGITAL INCLUSION CO-ORDINATOR)
Lucia delivers our Adopt a Garden and Digital Inclusion projects.
Lucia has over six years experience of working in the third sector. She has previously coordinated Domestic Abuse support and recovery and Mental Health peer mentoring projects. Most recently, Lucia was Volunteer Coordinator for an Elder Abuse recovery service.
"In my role with Fulham Good Neighbours, I recruit volunteers and match them with individuals interested in learning to use the Internet and new technology, but also those who are interested in gardening as a pastime and a way of increasing wellbeing. This enables me to constantly meet new people who share the enthusiasm and passion for our work."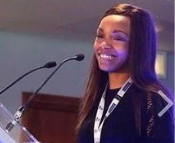 Monique Newton (FULHAM SUNDAY AFTERNOON TEA CO-ORDINATOR)
Monique delivers our Sunday Afternoon Tea project. During the C-19 pandemic Monique supported in excess of 70 FGN beneficiaries by providing Food to the Door. In March 2022 Monique was awarded in the LBHF Civic Honours Awards, winning the 'Contributions to Health & Wellbeing' category and being 'highly commended' in the 'Community Organiser' category.
Monique has been involved in the voluntary sector since 2011. She has developed and delivered a range of community projects targeting the most vulnerable and isolated members of society, from musical sessions for people with Alzheimer's to providing hot meals and haircuts for the homeless.
"I look forward to helping bring people together through a cup of tea whilst helping those who may feel isolated integrate back into their communities"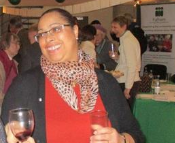 Ruth George (VOLUNTEER CO-ORDINATOR)
Ruth co-ordinates our 100 volunteers and leads our Social Clubs. In February 2022, Ruth completed 30 years of service at the charity! The following month, March 2022, Ruth was awarded as 'highly commended' in the LBHF Civic Honours for Life Time Achievement.
Prior to working at FGN Ruth worked for the Department of Environment (PSA) and for a large Port Authority Company.
"I joined Fulham Good Neighbours in 1992 as Home Bathing Organiser. I have had several roles working for FGNS including Admin/ Finance, Befriending Support and Reachout Worker. My present role as Volunteer Coordinator includes recruiting volunteers and matching them to tasks. The variation of my job – organising lunch clubs, meeting clients, liaising with volunteers, great team spirit and getting the job done is what makes the day worthwhile."
ruthgeorge@fulhamgoodneighbours.org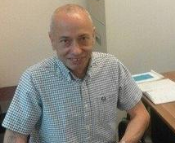 Stephen Fay (DECORATING PROJECT CO-ORDINATOR)
Steve, an experienced painter and decorator, supports older people and people with disabilities who: are unable to decorate themselves; have no one else to ask; and are unable to pay privately.
Steve served an Apprenticeship and reached City and Guilds standard. He joined Fulham Good Neighbours in August 2017 to run the Decorating Project.
Recently, during the C-19 pandemic, Steve has supported the community by delivering food packages. He has also ensured that volunteers are matched to 'Essential Tasks' as part of our Good Neighbour Scheme, covering Front Desk duties.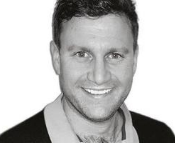 Simon Maskell (CONSULTANT BIOKINETICIST)
Simon, Maskell Biokineticists, instructs our chair-based exercise classes (online and at community centre simultaneosly!). In March 2022 Simon was 'highly commended' for his 'Contributions to Health & Wellbeing' in the LBHF Civic Honours. He was nominated by the 25 members that he supports at FGN thrice weekly.
Simon is a medical specialist in exercise for wellness, falls prevention, injury rehabilitation and chronic condition management. His focus is to improve quality of life, reduce the risk of injury, ailment or falling by improving muscle strength, muscle flexibility and balance.
"It is a great privilege to be involved with this wonderful charity - a definite highlight in my week. Supporting the older people of my local community from a distance, is truly humbling. Observing how people have engaged with technology so to overcome challenges, meet with one another and take care of their own well-being during this devastating pandemic is inspiring, thank you"

simon@maskellbio.co.uk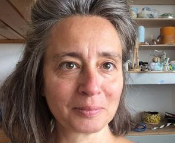 FLORA DULEY (CONSULTANT ARTIST)
Flora Duley instructs our Art Group.
Flora is an artist with a pedagogical and mixed media practice. She studied BA Hons at the UAL Chelsea School of Art and has a studio practice in London. Her work includes film-making, painting and ceramics. Her collaborative education projects have included artist educator for Great Art Quest and Parasol Unit, Learning coordination for Peckham Platform Southwark Education Research Project and Arts Award Delivery with different groups of Learners. She is Artist Associate for the Seniors Arts School at Southwark Park Gallery.
"I enjoy the creative thinking combined with the social engagement that promotes a sense of wellness and courage to develop personal and technical skills at any age and circumstance"
@flora_duley